Our resources
has taken the necessary measures, both on a human and technical level, to achieve set goals.
Thanks to powerful design tools and modern production systems, coupled with long experience, D.I.P is now capable of developing equipment units to meet specific requirements.
10 technicians and engineers make up the internal Drawing Office/Research and Development team, backed by external partners.
Production is handled by :
Job set-up clerks and technicians in the methods department
Professionals from all trades




(Machine operators, coppersmiths, welders, painters, electricians, hydraulics/pneumatics technicians, control engineers and fitters).
Our drawing office is equipped with top of the range CAD stations.
Our production works are equipped with efficient equipment that is renewed on a regular basis.
Our site in ECUIRES features :
22 000 m², of which 6 000 m² are under cover, and several travelling cranes up to 35 Tons working load.
Sand blasting & Painting premises.
Read more about :
Drawing office : AUTOCAD 14- 3D // 8 SOLID WORKS
MACHINing equipment
LATHES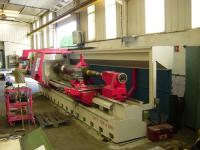 CNC Lathe
2 CNC Lathes//SOMAB C.A.P Diameter 550 - Max. thickness 1300
CNC Lathe//GEMINIS CAP Diameter 660 - Max. thickness 5000N
MACHINING CENTRES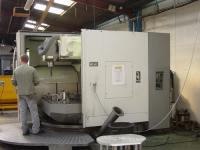 Machining centre - 5 axis DMG - 1000 x 800 x 800
Machining centre - 4 axis MORI SEIKI - 800 x 600 x 600
MILLING MACHINES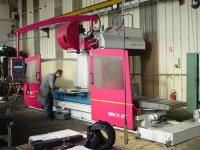 Milling machine MANDELLI C.A.P Positive 2000
Visu 3 axis 2000x1000x1000
Milling machine FIL C.N FA 120 - Visu 3 axis 1450 x 520 x 720
Milling machine LAGUNCN 3000 x 1000 x 1000
BORING MACHINES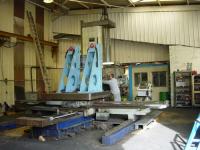 CNC Boring machine CERUTI C.A.P x 3200 - W.2400 - Y. 2400
Boring machine PEGARD 1500 x 1500 x 1000 - Visu 3 axis
DRILLING MACHINES
CNC Drilling machine PROMAT C.A.P 6000 x 1000
Drilling machine RADIALE GSP 45 C 20
Drilling machines - Tapping machines
SAWING MACHINES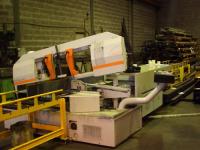 Sawing machine TRENNJAEGER C.A.P 1000 - Skew cut 650
Sawing machine AMADA 400
CN Sawing machine KASTO pos GL4 Series 106 - Skew cut 400
MISCELLANEOUS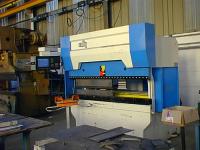 Shearing machine COLLY 2000 x 10
Press-Bending machine COLLY 180 T. CAP 4000
CN Press-Bending machine COLLY 50T. CAP 2000
Rolling-Crushing machine 1000 x 10
Spot Welding machine
20 semi-automatic ADX Welders for Aluminium and Stainless steel
mHandling / LIFTING EQUIPMENT
TRAVELLING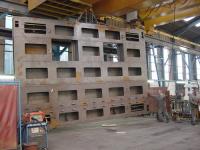 1 Travelling crane - SWL 35 Tons
1 Travelling crane - SWL 12.5 Tons
1 Travelling crane - SWL 6.5 Tons
3 Travelling crane - SWL 5 Tons
SWL: Safe Working Load
Drawing office : AUTOCAD 14- 3D // 8 SOLID WORKS stations